It's time to choose the December art theme and fanart theme for us to draw!
We'd love it if you joined in to draw/paint/create these with us, if you do please let me know so I can share your work. You can message me on Instagram, Reddit, Discord, or use the hashtag #artistmotivationtheme on Instagram.
December 2021 Art Theme: Mug, Optional Theme: Tea
Here's the mood board I created on Pinterest for this month's art theme "mug" with the optional "tea".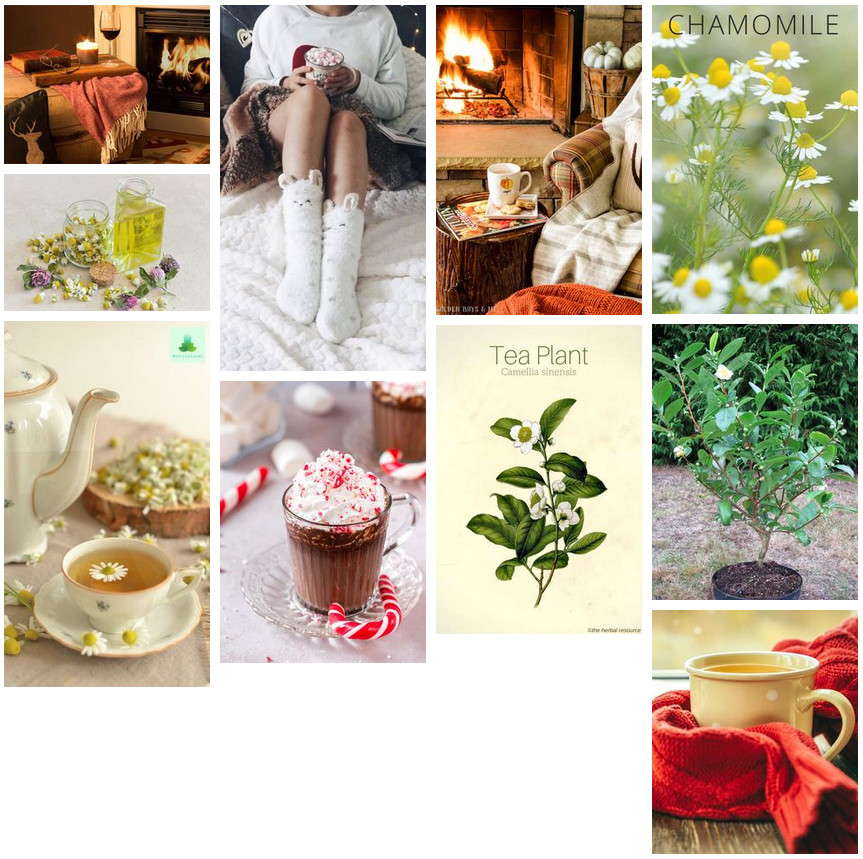 I wanted to choose something warm for the theme because during the cold winter months I'm always seeking ways to stay warm.
Blankets, socks, hot water bottle, and of course – a mug with a hot drink. I usually prefer tea, so I added that as the optional addition.
I noticed the colors in these pictures are mostly warm and bright, with bits of natural greens. I'll be trying to capture this feeling by using warm tones, too.
December 2021 Fanart Option 1: Rudolf the Red-Nosed Reindeer by Rankin/Bass (1964)
This month is definitely festive with winter holidays, so for the fanart theme, my husband and I chose two old holiday movies we're fond of.
Image Credit: IMDB
My husband picked this theme because he loves the snow monster "Bumble", an abominable snowman that reminds us of the Wampa monster from Star Wars.
Personally, I was always fond of the misfit toys too. I guess I have a thing for misfits in general. If I have time, I'll do this one, but my priority is with the second choice below.
Image Credit: IMDB
December 2021 Fanart Option 2: The Nightmare before Christmas (1993)
I loved this movie as a child, I always thought it was a great mix of Halloween and Christmas. It's been so long since I've seen it, now I'm planning on cuddling up on the couch with popcorn to watch it to refresh my memory. (Purely for research for the drawing prompt, of course.)
Image Credit: IMDB
I didn't notice until we'd already chosen the prompts that both of these old movies are stop-motion animated style, so that was a fun coincidence.
What's one of your favorite holiday movies?
Image Credit: IMDB
I hope you'll join us in having fun making some art based on these themes this month.
If you do, please message me on Instagram, Reddit, or Discord and I'd love to share your creations. Use the hashtag #artistmotivationtheme on Instagram so we can see each other's art!
Update On 12/10/2021:
Our little artist group decided to watch these old movies for the fanart themes this month and unfortunately it was decided that they weren't the best choices. Turns out not everything ages well! (How to ruin your childhood favorites the simple way? Just watch them again now! Instant regret.)
I've still decided to draw Sally from The Nightmare Before Christmas this month, because I think she's a really great character.
To make up for cancelling these themes, we chose a couple backup fanart themes that are somewhat winter related:
December 2021 Fanart Option 1: Water Tribe from Avatar
They live in cold climates and the water benders among them can create and control ice. They've also got amazing characters and scenes. I'd love to work on an art piece inspired by them and actually had started one earlier this year that didn't really work out how I wanted. Maybe it's time to revisit it and see if I can revive it!
Image Credit: IMDB
December 2021 Fanart Option 2: House Stark from Game of Thrones
The powerful and dynamic Stark family is definitely an inspiration. Winter really is coming right now, too, so perfect timing for a Stark theme. I've got an idea for this one I want to finish by the end of the month! Even if I'm not able to finish it in December, I'll be finishing it soon for sure.
Image Credit: IMDB
Update 01/02/2022: Here's my finished artwork from the December 2021 art themes!
To help prevent a theme change mid-month, we also started a vote for the themes which you can vote on the month prior. That way we all have a little input and hopefully avoid picking themes that no one will really like! You can help us vote by joining our Discord group here: https://discord.gg/H6rHwj4VVp